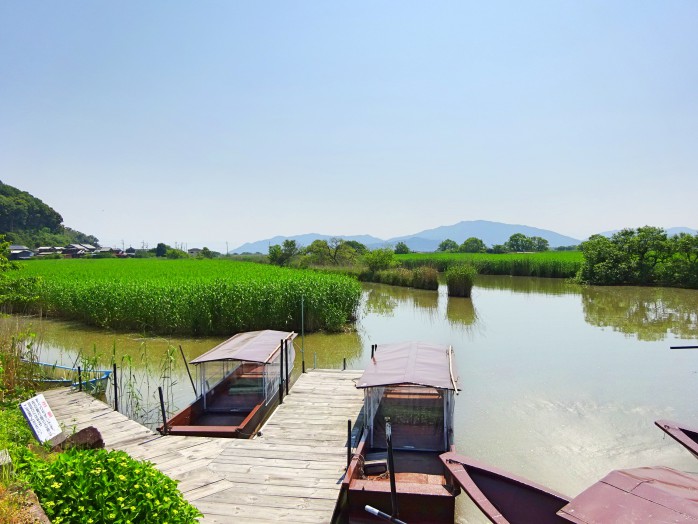 View from houseboat floating leisurely on the water.
It's . . . . .
Lush vegetation is growing on the both sides of waterway.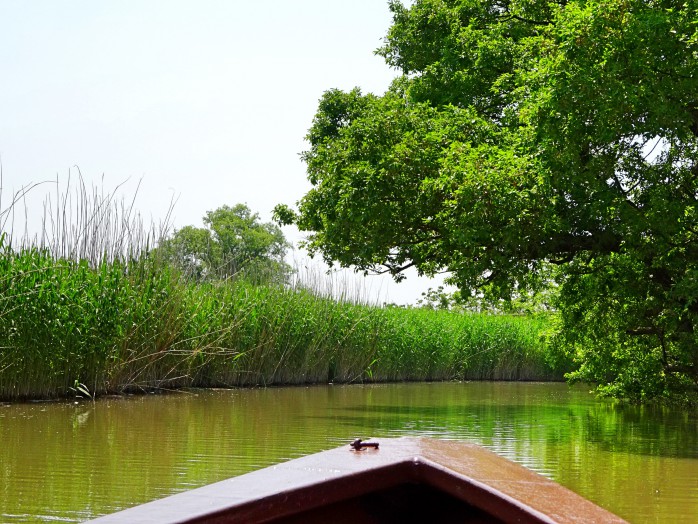 Waterfowl appear occasionally.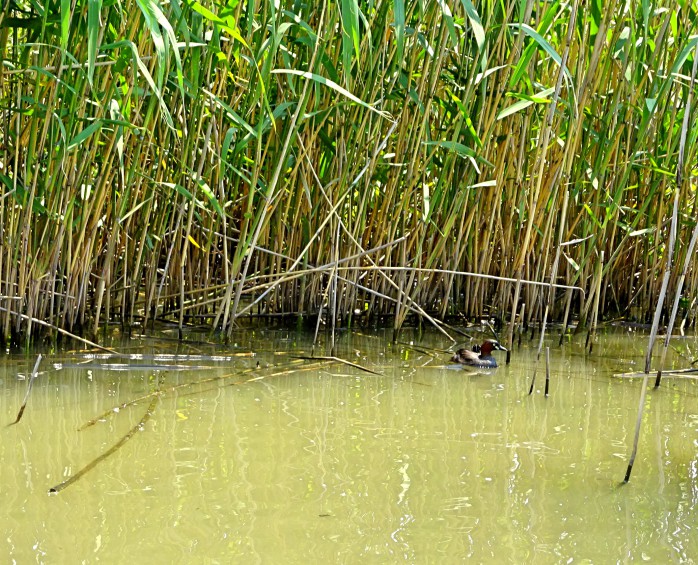 Tortoise is basking in the sun.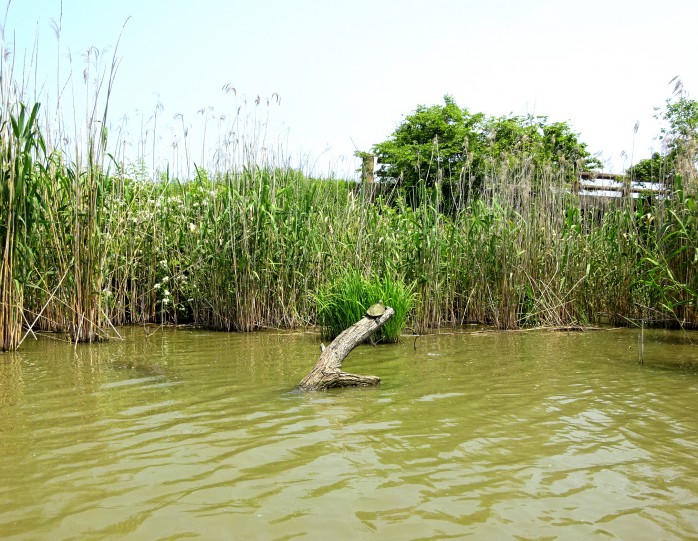 Unusual and comfortable space where surrounded calm landscape . . . . . .
It is a privilege given to the people who experience the lakeside district boat tour of Ohmihachiman.
The lakeside district of Ohmihachiman expands around "Nishino Lake" where is the biggest lake as inside lake of Biwa Lake.
This lakeside district was selected as first Cultural Landscape of Japan in Jan-2006, and also it was registered as Ramsar Convention in Oct-2008.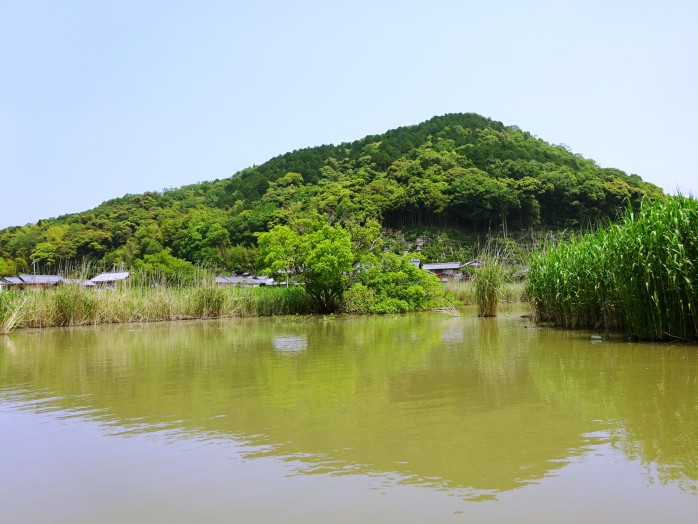 It means Japanese original landscape we must protect.
Ohmihachiman is the castle town opened by Hidetsugu Toyotomi who is a nephew of Japanese famous samurai Hideyoshi Toyotomi, and where is near from Azuchi Castle which was built by Nobunaga Oda who is another Japanese famous samurai.
It is said that Hidetsugu and Nobunaga started the lakeside district boat tour to heal tiredness caused by tense of atmosphere of Provincial Wars.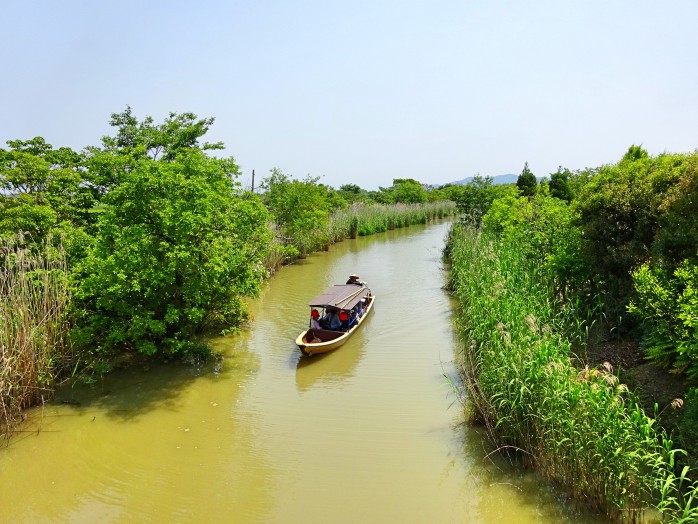 By the way, the greatest distinctive for lakeside district boat tour of Ohmihachima is cruise of vast marsh where is made by thick growth of reed.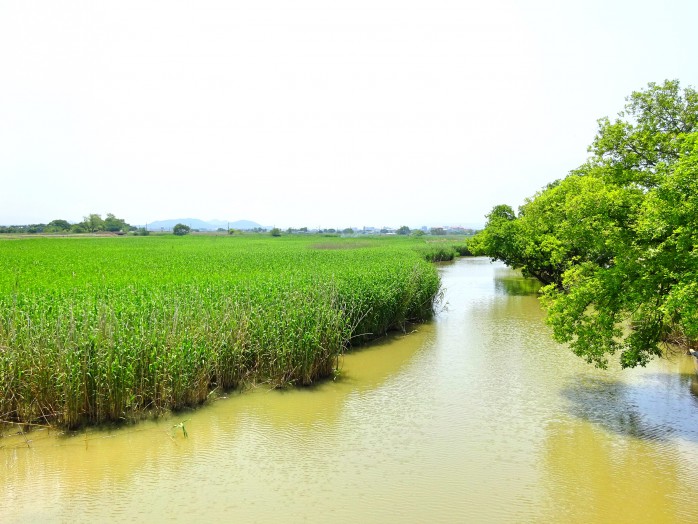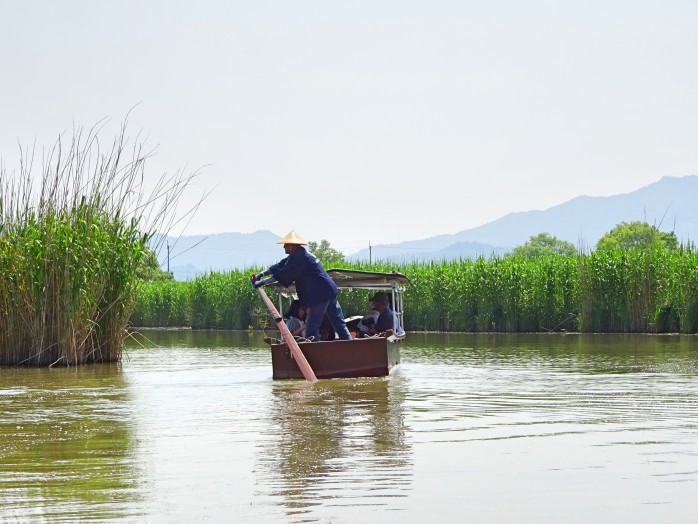 Reed is perennial plant of poaceae that grow thick in marshy areas as lower reach of river and tidal flats. The utility value is high, so it has been processed to reed screen and reed blind form long ago in Japan, and it was distributed to across Japan by Ohomi merchants (Ohomi is old name of Shiga prefecture) in Edo period(1603-1868).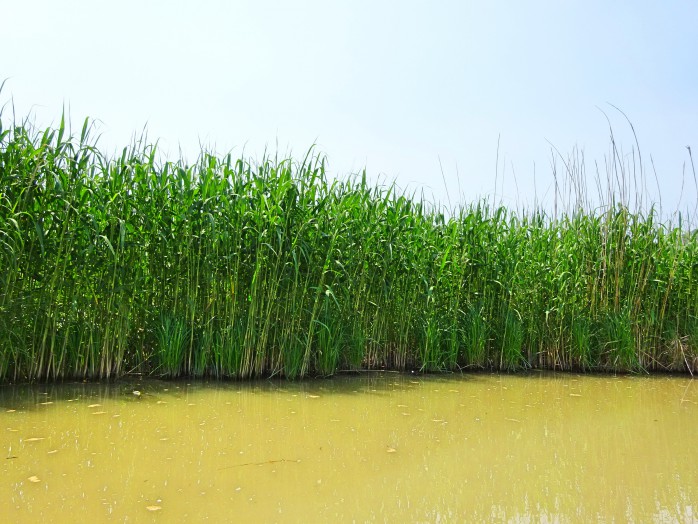 Reed melts into Japanese life. When did the reed appear on Japanese literature?
When we pronounce "reed" in Japanese. It is "Yoshi" or "Ashi".
There is "Toyo-ashi-hara-mizuho-no-kuni" in one of the Japanese old name.
This old name is written in Kojiki that is the oldest literature in Japan.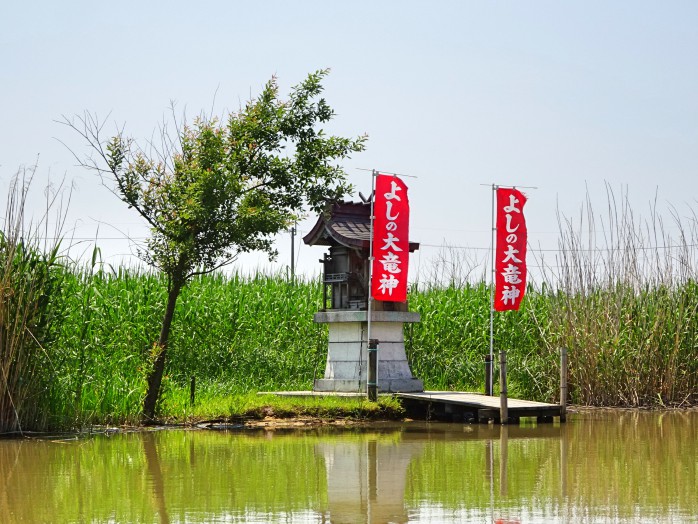 ↑Shrine of Reed(Ashi)
Reed is closely related with Japan, but there are many phrase and proverb everywhere in the world.
"Man is a thinking reed" of Blaise Pascal who is French mathematician and physicist is most famous phrase.
It means "Man is but a reed, the most feeble thing in nature. However man have ability to think, and great".
There are others also as followings.
"Reed bend before the all wind" : It means, "to change constancy according to circumstances".
"Lean against the reed" : It means "unreliable".
"To look at the ceiling through a reed" : It means " To be under the impression that you see all ceiling when you see the ceiling through a narrow pipe of reed stalk". It is example what you judge in a self serving according to own narrow views.
How did you feel about?
When you visit Ohomihachian, please join in the lakeside district boat tour, and let's learn many things from observation of reed which is Japanese origin!
<Japanese WEB site>
http://japan-history-travel.com/?p=6075
<Location>
Ohomihachiman, Shiga, Japan
【Related information】
Information of souvenir for Shiga Prefecture.