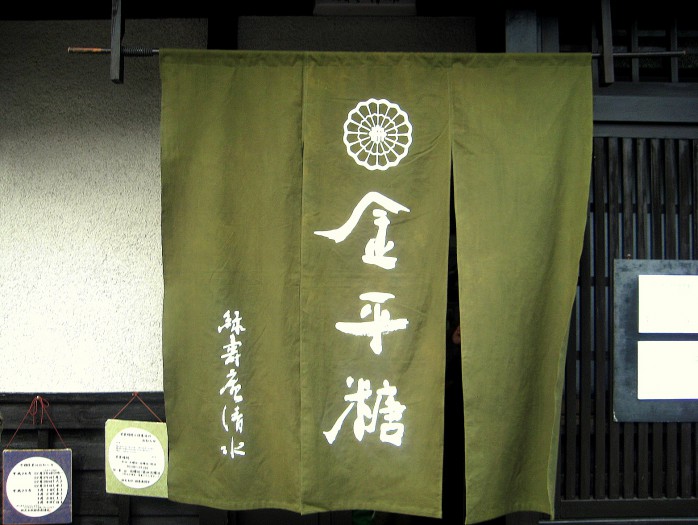 Green, White, Pink. The colors have not only tongue but also eyes enjoy combination with unique shape.
The candy is mysterious shape.
It is Konpeito!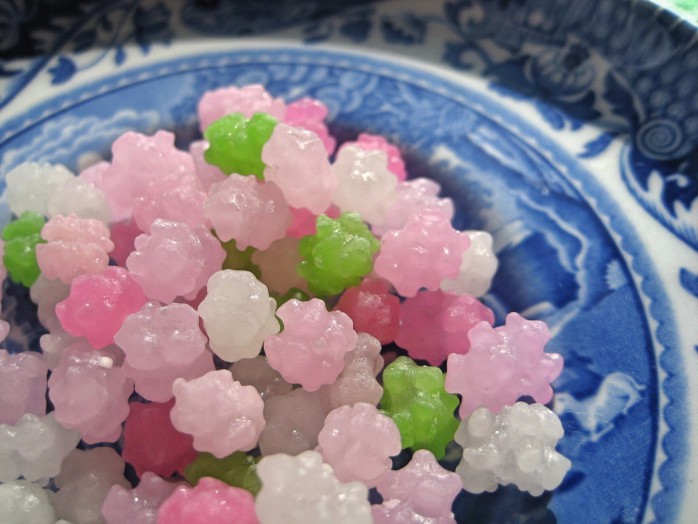 Konpeito is in Japan from long ago. It is also found on the literature issued in 1688 that mention a tradesman became a millionaire by the success of Konpeito production.
In reality, Konpeito came from Portugal and spread in Japan.
It was Confeito that was presented when Portuguese missionary Luis Frois had an audience with Nobunaga Oda who is supreme ruler of the day in 1569.
"Konpeito" was a corrupted from of "Confeito". By the way, "Konpei" is including meaning of strong and robust.
Konpeito came all the way form Portugal, but after that, the import was stopped by an isolation policy of Japan. However Chinese passed down the manufacturing method, so the manufacturing method was established as Japanese original technique.
Konpeito that followed this history have been know by almost all Japanese and have kept existence value even though there are various sweets in the present day.
Further, Konpeito is used not only as an item of sweets but also in another unexpected place.
Konpeito is used together with hardtack as emergency provisions.
It is difficult to eat hardtack due to dry and brittle, so sometimes happen that Konpeito is supplied with hardtack to accelerate secretion of saliva to eat easily.
Further, it seems that an effect is expected that comical and colorful Konpeito make reduce stress in the disaster.
From this, the Japan Ground Self-Defence Force use Konpeito as field ration.
Konpeito plays an important role!
On the other hand, it seems that the number of Konpeito manufacturer have been decreased to under 10 companies in all parts of Japan.
In this strict environment, there is Ryokujuan-Shimizu in Kyoto that is the only solitary specialty store of Konpeito in Japan.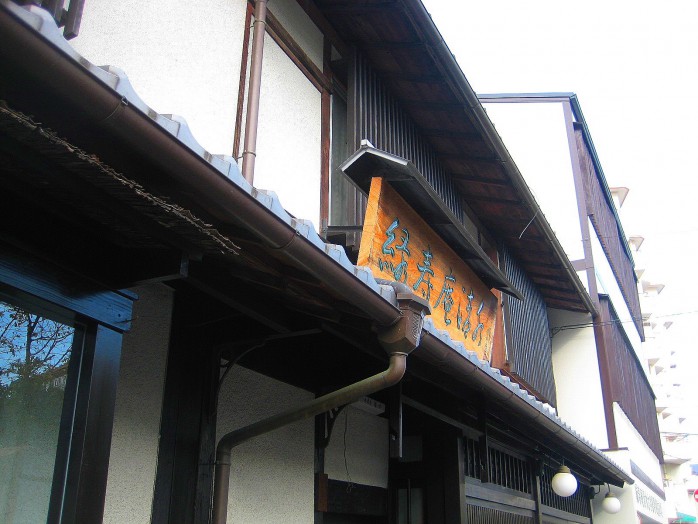 If we express Konpeito of Ryokujuan-Shimizu with single word, it is "evolution".
Why evolution?
The general taste of Konpeito is only sweetness. The reason is that if raw material of flavor is added, the sugars don't crystallize.
However, Ryokujuan-Shimizu overturned the common sense and provides Konpeito that are added many kinds of colors and flavors.
Chocolate, Caramel, Cherry, Tomato, Blueberry, Yogurt etc!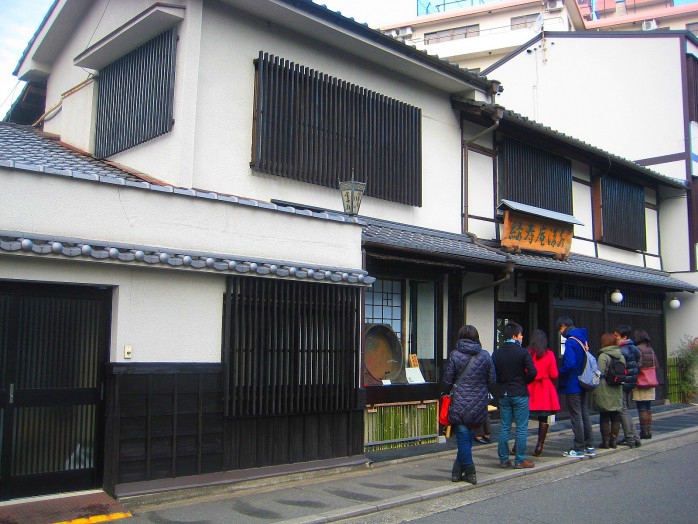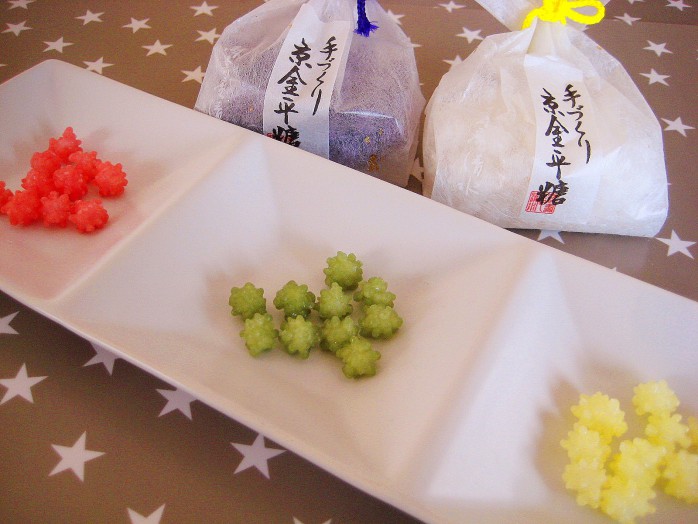 This becomes charm of Konpeito of Ryokujuan-Shimizu and attracts many people. Due to that, if not you have to line from early in the morning, you can't get the Konpeito you want.
I also lined up, so I got many flavors Konpeito!
Do you want to know taste?
Of course, the flavor was very good!
By the way, the first characteristic of Konpeito is projection of the surface.
This projection is formed during production process, and there are 17 to 36 projections per 1 Konpeito. However the reason why the projections are formed is not cleared.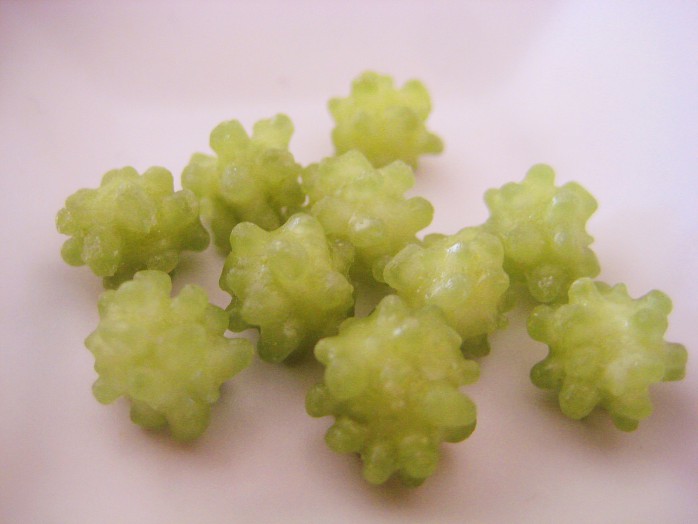 Konpeito is mysterious sweet. Don't you think so?
Ryokujuan-Shimizu was established in 1874.
Since that, they have been continuing to evolve even though they have been keeping traditional handmade manufacturing!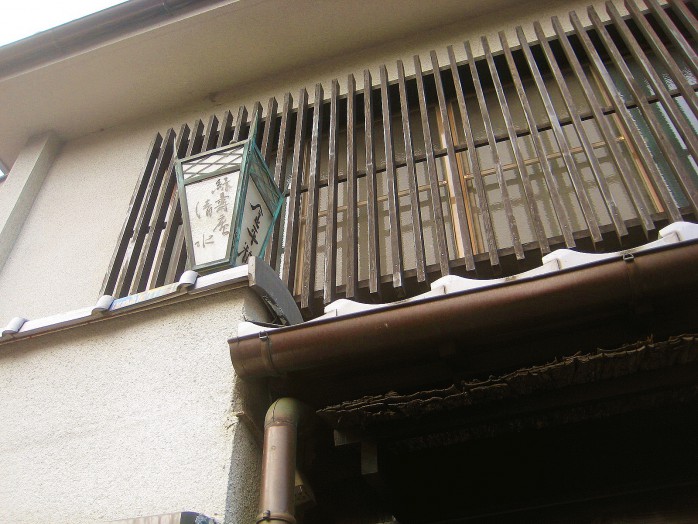 Finally, do you know what has become of Confeito of original Konpeito in Portugal?
It seems that Confeito is now almost unseen in Portugal, but it still has been produced in Coimbra where is birthplace of Confeito.
There is a proverb "Although blue dye comes from the indigo plant, it is bluer than indigo".
The meaning is "The student has overcome the master".
The technique is improved by learning and effort, and the pupil will outdo master's knowledge and technique in due time.
When we see Konpeito from view point of distribution, Japanese Confeito(Konpeito) may have outdone original Confeito of Portugal because it seems that we can hardly find Confeito in Portugal. Probably, also the flavor has evolved more than original.
Let's recognize importance for learning and effort by eating Konpeito that is Japanized completely!
<Japanese WEB site>
http://japan-history-travel.com/?p=596
<Location>
Ryokujuan-Shimizu:
38-2 Yoshidaizumidono-cho, Sakyo-ku, Koto, Japan
Post code: 606-8301