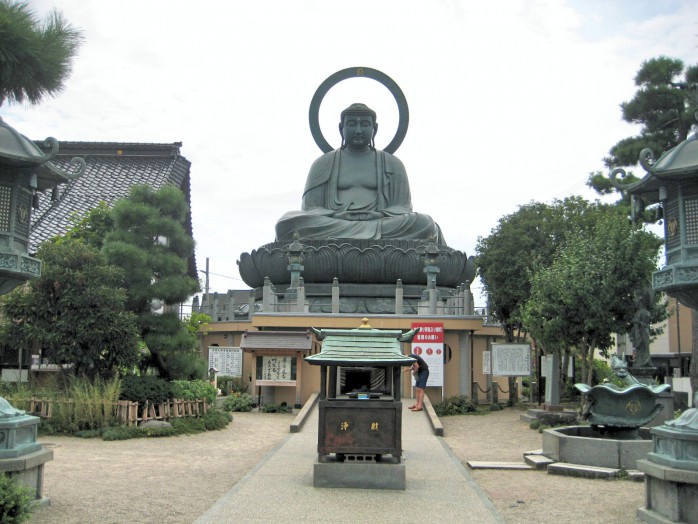 Please ask Japanese people "Do you know 3 large statues of Buddha in Japan?"
Almost all Japanese people will be able to answer to 2 of the 3, but shouldn't be able to answer for another 1. The 2 statues are "Nara Big Buddha" and "Kamakura Big Buddha".
Who is the third of the Big Buddha? There are several theories, it means vacant virtually.
So this time I would like to focus on the Takaoka Big Buddha which is one of the third candidate.
Takaoka is a town of copper, and it has accounted for 90% of the yield of copperware in Japan!
Takaoka copperware is also famous nationwide. And then, Takaoka Big Buddha is one of the representative tourist attractions which is made by copperware craftsmen.
Toshinaga Maeda who is one of the Japanese military commanders entered to Takaoka in 1609. 3 years later, he called 7 copperware craftsmen in order to achieve the prosperity of the town. It is origin of Takaoka copperware.
Then, vase, tea set, ornament, Buddhist altar fittings, bronze statue, e.t.c became widespread. Further evolved coloring technology in recent years has floated popularity as one of the copper products interior with its own well-established color technique.
Manufacturing process of Takaoka copperware has been firmly division of labor, and the craftsmen who have advanced technology is in charge of each process.
I think it seems to appeal importance of coordination to finished in more sophisticated by fulfill a given role.
I came to talk about Takaoka copperware, but if I say copper, I think several people will call up bronze medal. The bronze medal is third place. Takaoka Big Buddha which was built by collecting the best of craftsmen's technology of Takaoka copperware might be appropriate as third of 3 large statues of Buddha in Japan. Don't you think so?
<Japanese WEB site>
http://japan-history-travel.com/?p=484
<Location>
Takaoka Big Buddha:
11-29 Oote-machi, Takaoka, Toyama, Japan
Post code: 933-2139