Shine and bright colors of gold foil that reflected by sunshine and throw to the eyes will leave as intense memory.
Kunozan Toshogu Shrine whose Honden (the literal meaning is 'main hall'), Ishi-no-ma (the literal meaning is 'stone room'), and Haiden (the literal meaning is 'worship hall') are designated as a national treasure is a place where the deceased person was buried by the testament of Ieyasu Tokugawa.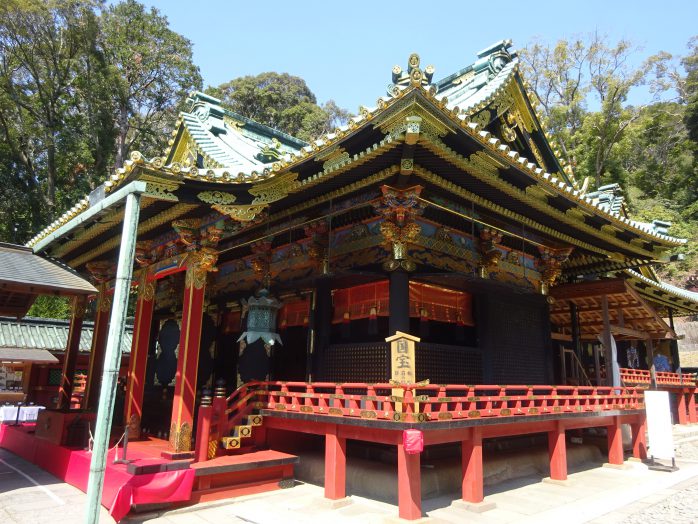 ↑Kunozan Toshogu Shrine
The shrine decorated luxurious and delicately was constructed in a short period of only one year and seven months from May 1616 to December of the following year by the order of the second Tokugawa Shogunate Shogun Hedetada.
It's amazing speed.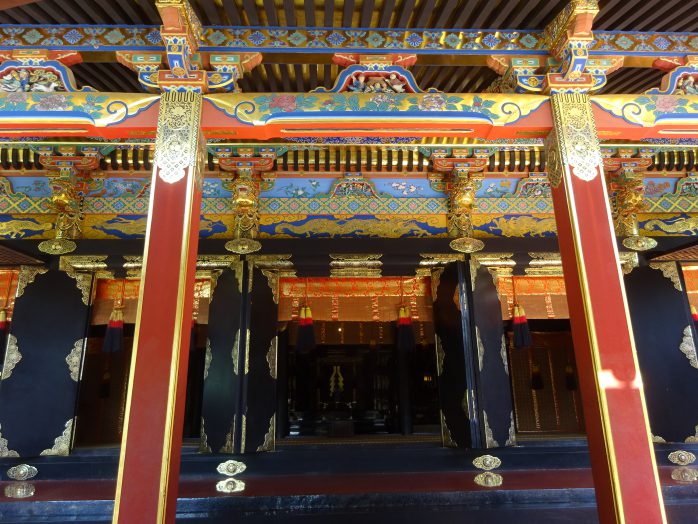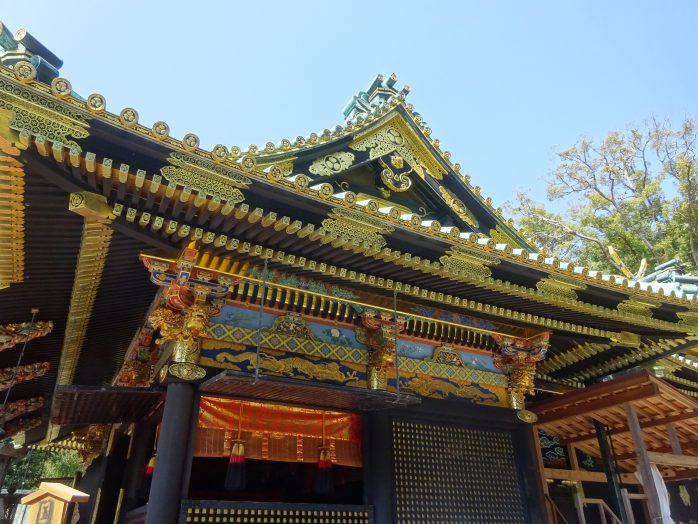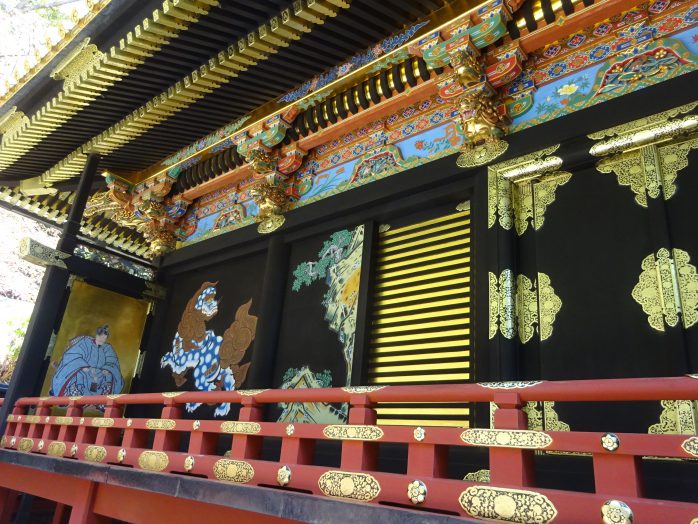 ↑The decoration of Kunozan Toshogu Shrine
According to Kuno-ji Temple Engi (Legends of Kuno-ji Temple), Tadahito Kuno constructed a temple on the current place in 7th century, and the Buddha enshrined on there was called Fudarakusen Kuno-ji, so the name Kunozan was started.
Shingen Takeda constructed Kuno Caste here in Sengoku period (1467-1600), after Takeda family collapsed, this place was put under control of Ieyasu.
The literal meaning of Kunozan is 'Mt. Kuno'. Kunozan Toshogu Shrine is on near summit of Mt. Kuno of elevation 218m. You can go there by ropeway from Nihondaira, or stone steps of 1,159 that is playced on Suruga Bay side.
Which one do you choose?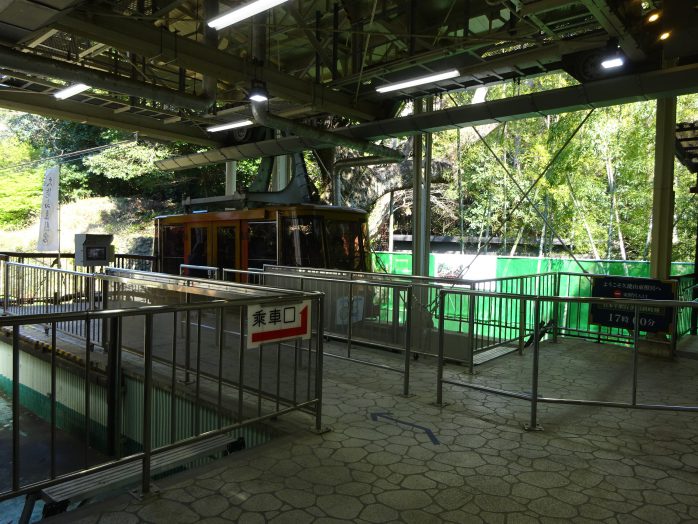 ↑Station of Kunozan and Kunozan roapway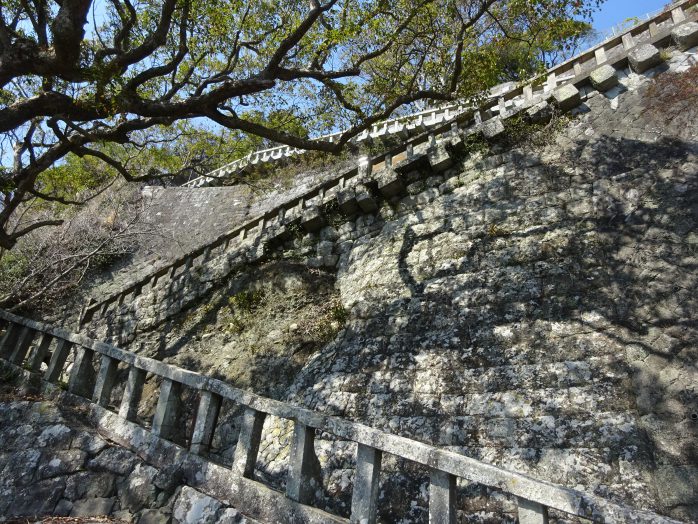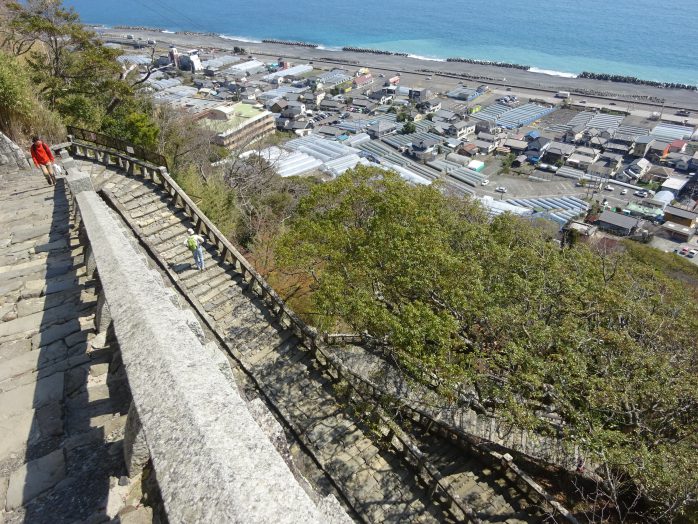 ↑Stone steps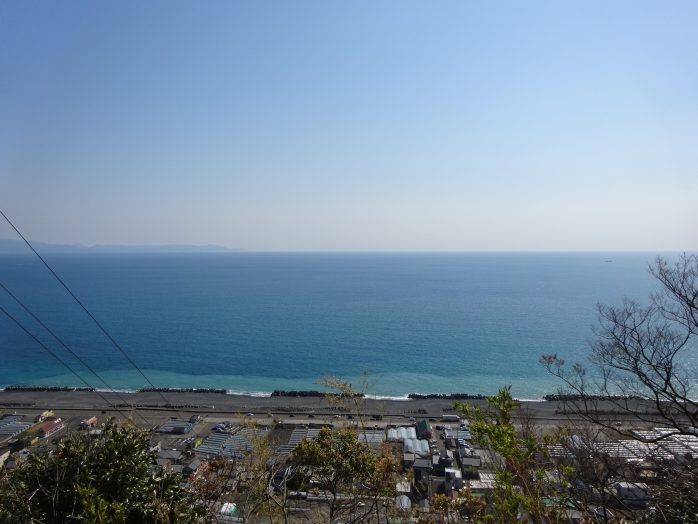 ↑View from Kunozan (Suruga Bay)
Due to time constraints (It might just excuse), I used ropeway, but I also used the stone steps a little by way of experiment. I went down to the middle of the mountain and turned back, but it was a good exercise.
Now again about Ieyasu's testament.
Ieyasu left testament as "Bury the body in Kunosan of Suruga. Hold a funeral in Zojo-ji Temple of Edo (Edo is current Tokyo). Enshrine a spirit tablet in Daijyu-ji Temple of Mikawa. Build a small hall on Mt. Nikko of Shimono, and divide spirit to there after one year. It will become tutelary god of Kan-Hasshy (Kan-Hasshy is current Kanto area including Tokyo)." *Currently, Nikko Toshogu Shrine is built in Nikko.
If you read only this, you might think the mortal remains of Ieyasu has left in Kunozan Toshogu Shrine, but it is generally said that the mortal remains were transferred to Nikko Toshogu Shurine.
However, it seems that there is no record of transferring the mortal remains to Nikko. Since the search for the mausoleum was not conducted, the truth would have been said to be in the dark after all.
Which place has Ieyasu slept in?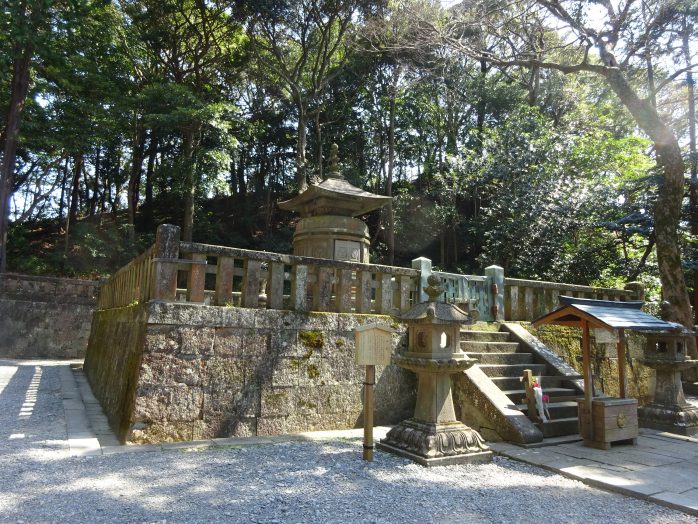 ↑Kunozan Toshogu Shrine_The mausoleum of Ieyasu
By the way, Kunozan Toshogu Museum adjoining to precinct is on display the extant oldest Western Clock in Japan.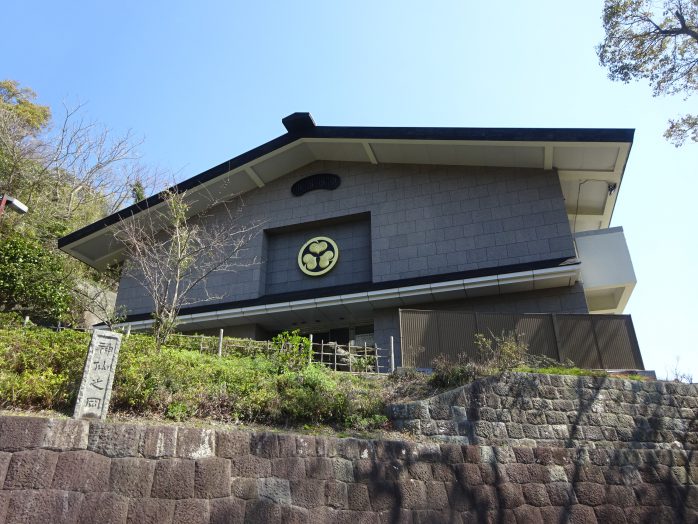 ↑Kunozan Toshogu Museum
In 1609 a Spanish ship ran aground at Onjukumachi in present day Chiba Prefecture, east of Tokyo.
Ieyasu accommodate crew during their stay in Japan. Finally, he prepared ships and sent them to mother country.
The clock presented by King Philip III of Spain in return is stored and exhibited in museum.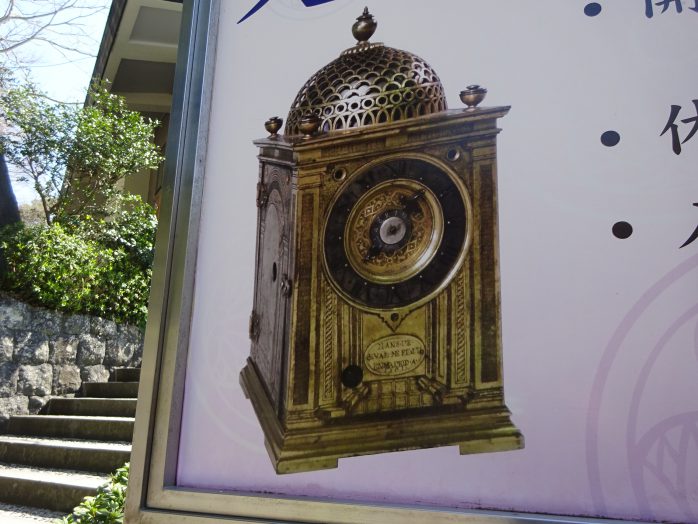 ↑Ieyasu's Western Clock (It is a photo on the signboard of the museum entrance, due to no photography for real clock)
From the inscription, this clock is said made in 1581. Result of decomposition survey, it is become clear that the clock has been made using the highest technology of the time, and the clock that remains the original parts of 99% from the 16th century has no similar example in the world.
However, Spain and Japan had different calendars at that time, so this clock didn't perform function of clock. In spite of this, Ieyasu seems to have liked the clock exceedingly, and put in his room.
What to say that his favorite items has been stored near the mausoleum is the mortal remains of Ieyasu might still leave in Kunozan.
If so, the decision on this matter will be Kunozan Toshogu Shrine.
However, it does not seem to be so.
Ieyasu devoted to collecting clocks in his later years, so it seems that he collected various types of clocks, such as western clocks, sundials, and hourglasses. Due to that, a bear clock that shape is bear has been stored in Nikko Toshogu Museum.
Kunozan Toshogu Shrine, Nikko Toshogu Shrine. Ieyasu is sleeping in which mausoleum?
Only Ieyasu's favorite clock that has ticked for long time might know the answer.
Beautiful things and necessary things will continue to be stored carefully.
Kunosan Toshogu Shrine and Ieyasu's clock that apply to it will continue to be stored for a long time.
<Japanese WEB site>
<Location>
Kunozan Toshogu Shrine:
390, Negoya, Suruga-ku, Shizuoka, Japan
Post code: 422-8011